NY Hyundai Veloster | Brooklyn New Cars
The Veloster is about defying expectations. It's a rolling style statement, with aggressive contours and elegant curves. But don't think that the Veloster's advancement is only sheet metal deep. This is a vehicle packed with modern technology, automotive advancement, and brilliant design. Welcome to the 2015 Hyundai Veloster.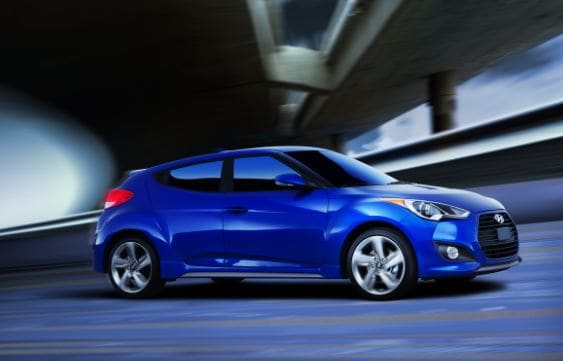 At 138 horsepower and 36 miles to the gallon highway, the NY Hyundai Veloster is sure to save you money at the pump while still putting the power down on the road. And if that bite isn't quite enough, the harder, faster, 201 hp Veloster Turbo is sure to bring a smile to your face, while still making 33 MPG highway. It also comes complete with a suite of styling upgrades, like a unique front fascia, 18 inch alloy wheels, chrome-tipped exhaust and projector headlights.
The Veloster is innovating on every front. A unique 3-door design offers the style of a coupe with the accessibility of a sedan, helping you get in to the Veloster's class leading 105.3 cubic feet of passenger volume. A 7-inch touch screen comes standard, and can be upgraded for compatibility with gaming consoles. The advances Dual Clutch Transmission is race-bred technology most often found on high-end European vehicles. Shifts are smooth, quick and direct, with paddle shifters for a sporty driving experience.
So to check out the coolest small car on the market, come down to South Shore Hyundai and take the 2015 Hyundai Veloster for a test-drive. Located in Valley Stream, within Nassau County, we're the premiere New York Hyundai Dealer. From Brooklyn to Long Beach, we have satisfied customers from all over NY. Our sales staff are fully committed to customer satisfaction, and we'd love to put you in the Veloster of your dreams at a price that works for you.