NY Hyundai Elantra | Valley Stream New Cars
Sleek. Stylish. Powerful. Timeless. None of these are words you normally hear bandied about when it comes to compact cars. And yet the 2015 Hyundai Elantra fits each of these descriptions. This is a compact car for the discerning consumer, and it blows the competition away.
The NY Hyundai Elantra was ranked highest in initial quality among compact cars by J.D. Power, and it's no small wonder. The Elantra has 145 standard horsepower, more than the Corolla or Civic, its most direct competitors. It is stylishly designed, as at home on the daily commute as it is at a theatrical debut. It also boasts more interior space than the Focus, Cruze, or Civic, with a whopping 110.4 cubic feet, and has more front headroom and leg room that the Mazda 3.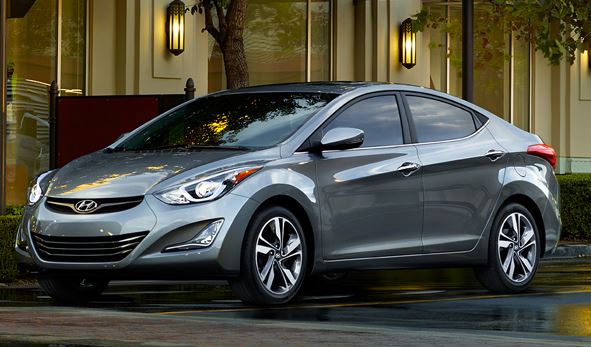 On the Elantra, style comes standard. 16 inch alloys adorn the wheels, and the vehicle is outfitted with wraparound projector headlights accented with LEDs. Fog lights, LED taillights, and a low, sinister stance complete the package. For those craving a sharper driving experience, there is the Elantra Sport, boasting an upgraded 173 hp engine, 17 inch alloys, and sport-tuned suspension and steering.
The Elantra manages to incorporate style, class, and power, all without losing any of Hyundai's legendary safety. The vehicle is equipped with 6 standard airbags, stability control, and other safety features that helped the car earn a 5 star NHTSA rating and an IIHS top safety pick.
So come take a test drive at your local New York Hyundai Dealer. At just $17,250 starting MSRP and complete with a 10 year, 100,000 mile warranty, this is should be on everyone's radar in a big way. South Shore Hyundai is based in Valley Stream, NY, convenient to Hempstead, Garden City, and Rockville Centre. We've got satisfied customers from all over New York, and we are completely committed to customer service and satisfaction!