NY Hyundai Elantra | New York Car Dealer
The 2014 Hyundai Elantra is rolling proof that big things come in small packages. The Elantra manages to fit 110.4 cubic feet of passenger space within its compact frame, enough that the EPA actually classifies it as a midsize vehicle. That's more than the Ford Focus sedan, Chevy Cruze, and yes, evens the venerable Honda Civic. It's more powerful than the Civic too, with 145 hp available standard. It's a small wonder the 2014 Elantra was ranked highest amongst all vehicles in the compact class in J. D. Power's Initial Quality Study.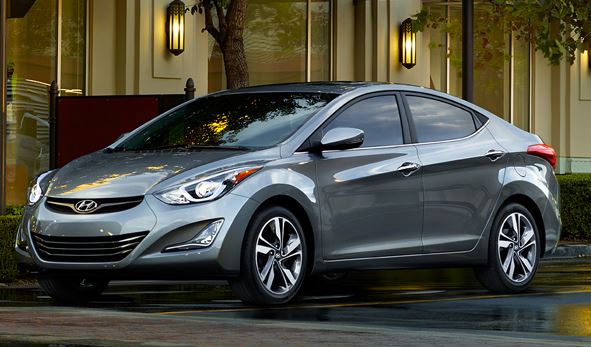 The Elantra benefits from Hyundai's Fluidic Sculpture 2.0 design language. The headlights bow backwards in sleek arcs. The body panels are formed into sharp creases and flowing curves. Elegant ten spoke alloy wheels come standard. These design cues combine into a $17,250 economy sedan that would feel right at home at a black tie gala event. And interior features measure up to higher ticket vehicles as well; the Elantra was the first car in its class to come with heated front and rear seats, and Sirius satellite radio comes standard.
Not content to excel in space, power, and design, the 2014 Elantra strives to be best in class in safety and efficiency as well. The nimble sedan is equipped with a Vehicle Stability Management system and six standard airbags. You can rest assured that the Elantra will keep you as safe as possible, with a five star all-around crash test rating from the NHTSA and IIHS top safety pick status. The Elantra matches its class, power and safety with lightweight materials and an efficient engine that bring highway numbers up to 38 miles per gallon.
Located in Queens? Brooklyn? Come down to your South Shore Hyundai and test drive a 2014 Elantra today. Experience for yourself why Elantra is a step above the competition. We're the premiere New York Car Dealer for Hyundai, and we want to make sure you're fully serviced. Wherever you're located in the great city of NY, we promise the highest quality service to match the amazingly high quality of Hyundai's full model line.